Diese Veranstaltung hat bereits stattgefunden.
How Deep Is Your Love?
17.06.2017 / 15:00

bis

20:00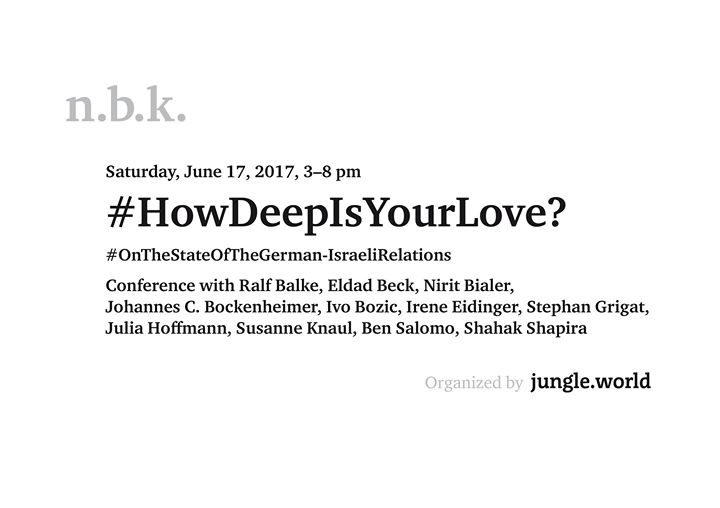 Conference at Neuer Berliner Kunstverein (n.b.k.), organized by the weekly journal Jungle World
With Ralf Balke, Eldad Beck, Nirit Bialer, Johannes C. Bockenheimer, Ivo Bozic, Irene Eidinger, Stephan Grigat, Julia Hoffmann, Susanne Knaul, Ben Salomo, Shahak Shapira
Last year marked the 60th anniversary of the diplomatic relations between Germany and Israel. In June 2017, the Six Day War has its 50th anniversary, as a result of which, back then, many left-wingers in Germany have adopted an anti-Israeli line. A lot has happened since then – or not. Anti-Semitism, not just in Germany, is on the rise again and internationally Israel has not made many new friends. At the same time many Israelis have migrated to Germany, there is a lively cultural and economic exchange. With this discussion we want to find out how the relationship status is. One thing is certain: it remains difficult.
Program, Saturday, June 17, 2017
3 pm, opening: Irene Eidinger, managing director of the weekly journal Jungle World
3.30 pm – 5.30 pm, Panel 1 "Who needs friends?"
Which countries, which social players are backing Israel? Who can Israel truly rely on? What is to be said of the "German reason of state" with regard to Israel, also in view of Germany's dealings with Israel's enemies? And what can be expected from the institutions of the "international community", what from the USA?
Panel:
– Johannes C. Bockenheimer, correspondent for Handelsblatt and editor for Der Tagesspiegel, author of the book Chuzpe, Anarchie und koschere Muslime (2015)
– Stephan Grigat, lecturer for political science at the University of Vienna
– Susanne Knaul, correspondent in Israel for the daily newspaper taz
– Eldad Beck, Germany correspondent for the Israeli daily newspaper Yedioth Ahronoth, living in Berlin
Moderation: Ivo Bozic, freelance journalist and co-editor of the weekly journal Jungle World
6 pm – 8 pm, Panel 2 "Leaving Tel Aviv"
Thousands of Israelis now live in Berlin. This brings about a wide cultural exchange, but also for many young Israelis questions about their own identity. Which consequences does this migration have for the Zionist idea in Israel, is the accusation of betraying Zionism justified? And what are the implications of the new Jewish life in Berlin for the German accounting with the past? And how does all that influence the German-Israeli relations?
Panel:
– Nirit Bialer, founder of the initiative "Habait", mediator of Israeli culture
– Shahak Shapira, born in Israel, satirist and author, living in Berlin
– Ben Salomo, Israel-born, Berlin-bred rapper, founder of the concert series "Rap am Mittwoch" (Rap on Wednesday)
– Ralf Balke, historian, working as a freelance journalist in Berlin and Tel Aviv
Moderation: Julia Hoffmann, editor of the weekly journal Jungle World
Free admission.
The conference takes place in the framework of the research project and performance exhibition 'Conditions of Political Choreography', initiated by Neuer Berliner Kunstverein (n.b.k.) in collaboration with the Center for Contemporary Art (CCA) in Tel Aviv, funded by the German Federal Cultural Foundation.
Find more information as well as the timetable for the performances and other events on http://www.conditionsofpoliticalchoreography.org
Ähnliche Veranstaltungen